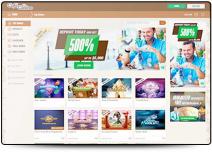 Cafe Casino Review – Promising a relaxing environment, excellent games and big value but do they deliver?
Café Casino was founded in 2016 as an alternative to most high energy online casino setups. At Café Casino the emphasis is on relaxation, fun and creating the right environment for all this to happen in. They have a whole host of top games and provide a seamless service over desktop and mobile for players to enjoy. There site boasts many promotions and perks including $100 referral bonuses if you invite your friends to play there too. They're also one of the new breeds that offer players from the USA a place to play. Take a seat and order yourself a latte, we'll do all the hard work so you don't have to.
Games
The games over at Cafe Casino are provided by Rival, Real Time Gaming, Random Logic and Relax Gaming. You'll find varied portfolio of games including video slots and classic slots, tons of video poker variants, table games such as Baccarat, Roulette and Craps, Blackjack and speciality games like bingo and parlour games. One area that is particularly interesting is their parlour games, which is essentially the whole idea of this online casino. Games of chance where you don't really have to think too much about big strategies and that can be played while sipping a coffee while you relax in Starbucks. You can also find some excellent jackpot slots here to really tempt your luck with.
Software
At Cafe Casino they have a very simple yet elegant setup. Their website is very modern and is kept very simple to make it extremely user friendly. Your only ever a few clicks away from your favourite games here and it runs super smooth on both desktop PC and Mac as well as on mobile and tablet devices. The games are nicely integrated into their system despite coming form different providers, there's a seamless flow to their whole site which is a nice touch. The latest in encryption protocols are firmly in use at Café Casino and this means that they keep all your personal details safe and secure and all data and finacial transactions are secure.
Payment Options
We love it when casinos make it easy for their players to use their payment systems and Cafe Casino make it very simple by offering all the most popular payment methods. All the most common options can be found such as MasterCard and Visa credit cards, Debit cards, e-wallets and one not so common in the form of Bitcoin. If you've never used Bitcoin before but fancy trying it out, Cafe Casino have a set of videos and a guide explaining how to use the cryptocurrency and how to setup a Bitcoin wallet, so you never know, you might end up switching to Bitcoin when you play here. They have a hassle free system overall which is both fast and painless.
Customer Service
Cafe Casinos customer service team are on hand to help all players with all queries regarding games, promotions, bonuses and services. You can reach all day long and all year round via telephone support and email. Both have lightning fast times and their reps are polite and very knowledgeable, helping you with anything from registering to game rules. Having tested them out with our usual set of casino questions, they were able to provide accurate responses and all within a very decent timescale. Excellent service.
V.I.P
Comp points over at Cafe Casino is called their 'Perks' programme and comes in two distinct flavours. As a new member you can receive 10% daily cashback, weekly bonuses, prize draw tickets and you are also eligible to earn $100 for every friend you refer to Café Casino. Once you've been around a bit and accumulated 50,000 points or spent more than $25,000 you are inducted into their VIP level scheme which give 15% cashback, plus bigger bonuses, more prize draw tickets and also a special birthday bonus just for you.
Our Verdict
We loved Cafe Casino for many reasons but one of the main ones is the atmosphere they create. It is a truly relaxing experience and a real change from most online casino setups. They offer great games and promotions which also goes part of the way to build this excellent experience and then top it all off with very good customer support. We like their comp system and feel its rewarding enough for both types of players that can use it. We loved their welcome package too, super huge value wow. All in all their games, services and site come together to make a truly one of a kind experience that should be enjoyed by players everywhere. Take our advice and register an account over at Café Casino, we think you'll love it and in the end it will become your go to gambling site.
Play